WHY SHOULD YOU TRAIN IN STAGE COMBAT?
We're guessing that most of the friends of most of the people who do stage combat are used to hearing them talking *at length* about how awesome it is.
Now you get to do it on Socials AND be in with a chance to win a free place on this year's FIGHT THE GOOD FIGHT Stage Combat Intensive (17th – 21st April), worth $595.
Here's the challenge:
1. Make a short film that addresses "WHY SHOULD YOU TRAIN IN STAGE COMBAT"
2. Upload it to Vimeo or YouTube and spread the love
3. Submit your video link to us along with a count of the video Likes and your contact details (see below)
That's it!
Here's the judging criteria:
The style of film can be anything you like – creative, dramatic, documentary, current affairs/news, infomercial, interpretive dance or musical. It can be silly, funny or serious. It can be live action, animated, puppetry or even stop-motion (if you have lots of time!). Whatever you like – be creative and play to your strengths.
Submitted films will be ranked according to the number of Likes they receive across all platforms, and then judged against the following criteria:
1. THEY MUST BE SAFE!!
2. The level of creativity, novelty and innovation
3. How engaging and entertaining they are (do they hold our attention?)
4. How effective it is in persuading your friends as to why you should train in stage combat!
You do not need expensive kit – a cleverly-used mobile device and good editing can do the trick. If you tell us when you've uploaded your film we can also spread it on our networks!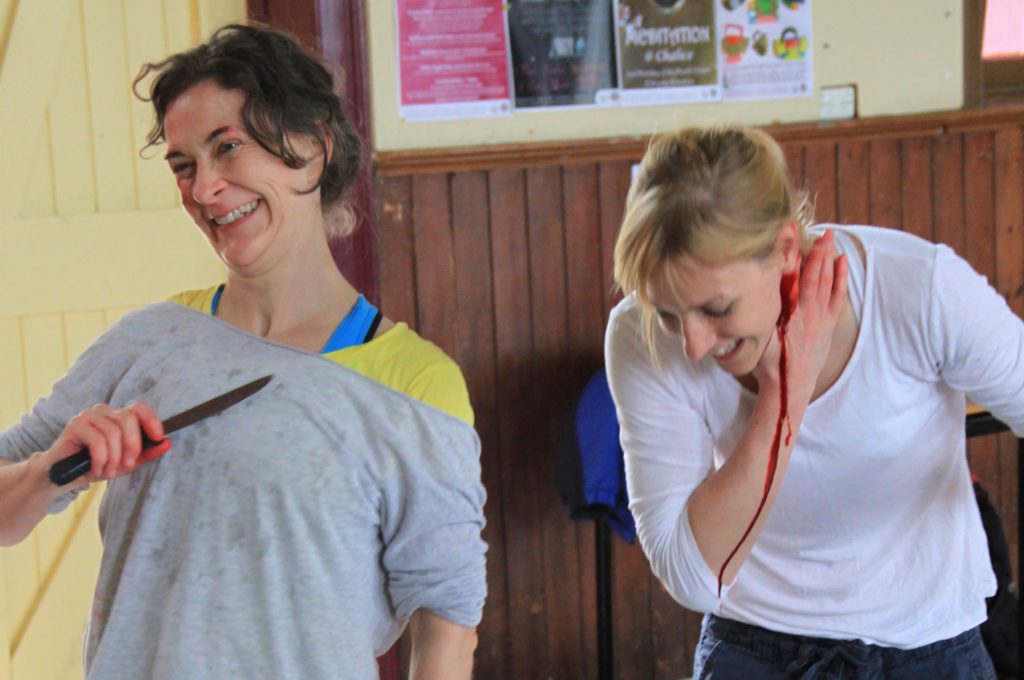 Here's The Rules!
Any film not following these rules will be disqualified!
The LIKES period closes 6:00pm AEDT Monday 27th February, and all submission must be completed by 6:00pm Tuesday 28th February. Late submissions will not be accepted.
1. all films must be respectful and comply with social media community guidelines
2. films must be under 1:00 minutes long (we mean it)
3. you can post the video across many platforms as you like, but at least one must be posted to Vimeo or YouTube for judging submission
4. you must mention in the comments that this is a competition for Captivate Action, www.captivate-action.com
5. we will count LIKES across all platforms, but please ask your friends not to 'double-dip' and put multiple likes on across every place you post or share (we can go in and check if it seems fishy!).
6. if you are filming with friends, you may choose to divide the prize amongst you (eg. if there are 2 people involved, you each get $297.50 towards your Fight the Good Fight course fees)
7. you may appear in multiple films and entries (but each will be judged individually – the Likes are not accumulative across different films)
8. the prize tuition place can only be claimed on this year's Fight the Good Fight Stage Combat Intensive, 17th – 21st April 2023. If you are unable to attend the workshop, the winning place is forfeited and will pass to the next-placed entry.
9. if you are feeling generous, you may transfer your prize to another person with the express permission of Captivate Action Pty. Ltd. AND the person you're transferring it to. Captivate Action Pty. Ltd. reserves the right to vito this transfer.
10. you must HAVE FUN
Here's How You Submit:
1. upload your film to YouTube or Video and SHARE – do this ASAP so you get more LIKES!
2. on Monday 27th February, take screen captures of the number of LIKES you have across all platforms (ideally, as close to 6:00pm AEDT as possible, and no later).
3. by 6:00pm AEDT Tuesday 28th February, fill out the form below, which includes the link to your video and report in your number of Likes on each platform, and the total.
4. You do not need to send us your screen captures of the LIKES, but you do need to retain them as proof if requested (we will be checking the LIKES as you enter, so we can tell if something 'unusual' has happened to the photos!).
5. Wait for the results!
Results will be announced on March 15th. Captivate Action will share the winning film and other entries on our networks.
Remember the number of LIKES is only part of the Judging criteria – if you make a cracking film, but aren't really active on socials, you can still win.
Any questions, just GET IN TOUCH. We can't wait to see your entries!