Captivate is the premier company in Australia and the U.K. for Dramatic Combat (or 'Stage Combat') training.
Why should I train in 'Dramatic Combat'?
When working in film, theatre and mocap, any action or fight sequence inherently has a risk of injury. No matter what kind of action you are performing, there are two main factors we need: Keep it SAFE, Make it EFFECTIVE.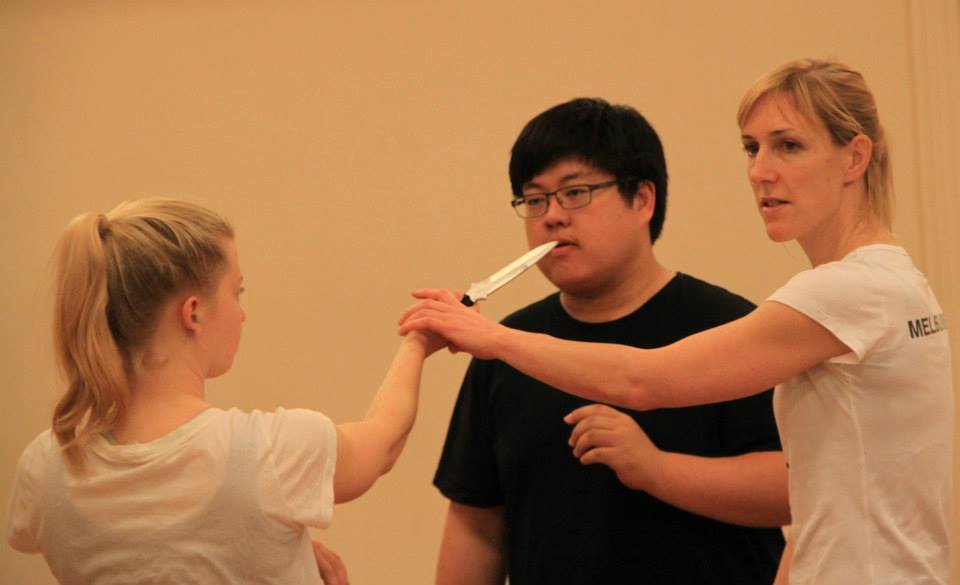 It can be a big ask to pick up these skills 'on the fly', particularly when there is a time pressure, and something will always suffer in the balancing act between safety, technical accuracy and performance. Training lets you give your best performance, look convincing in action and respond to what is asked of you from a director or fight co-ordinator. Most importantly you can do all this while keeping yourself and others safe, so you are ready for the next take, the next scene, the next day and the next job.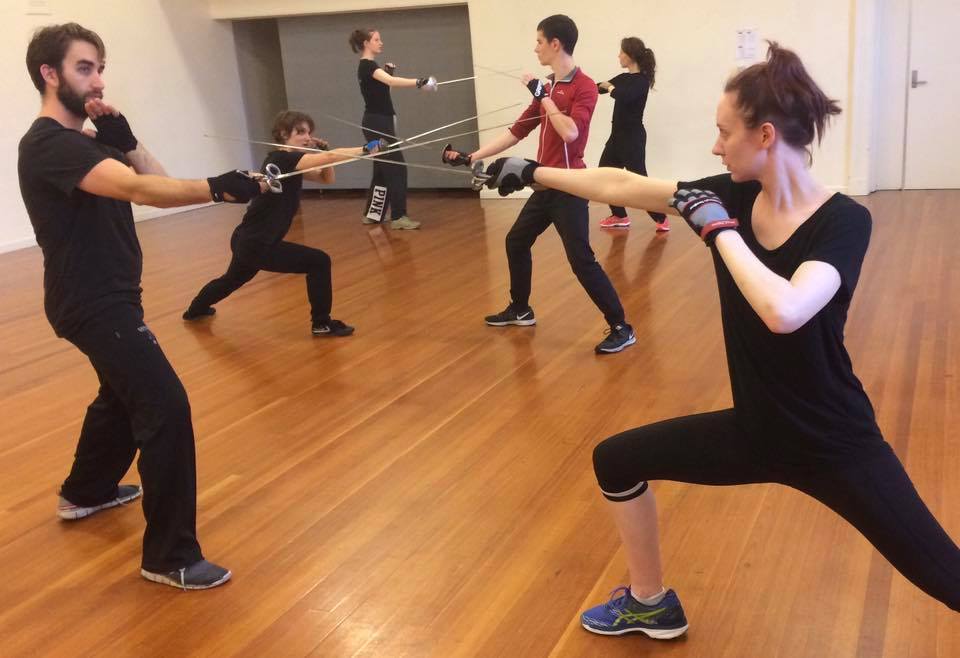 Besides from learning the vital techniques of 'illusion' and fighting form, training dramatically enhances your movement, conditioning, awareness, and partner skills – so overall it absolutely widens your work potential.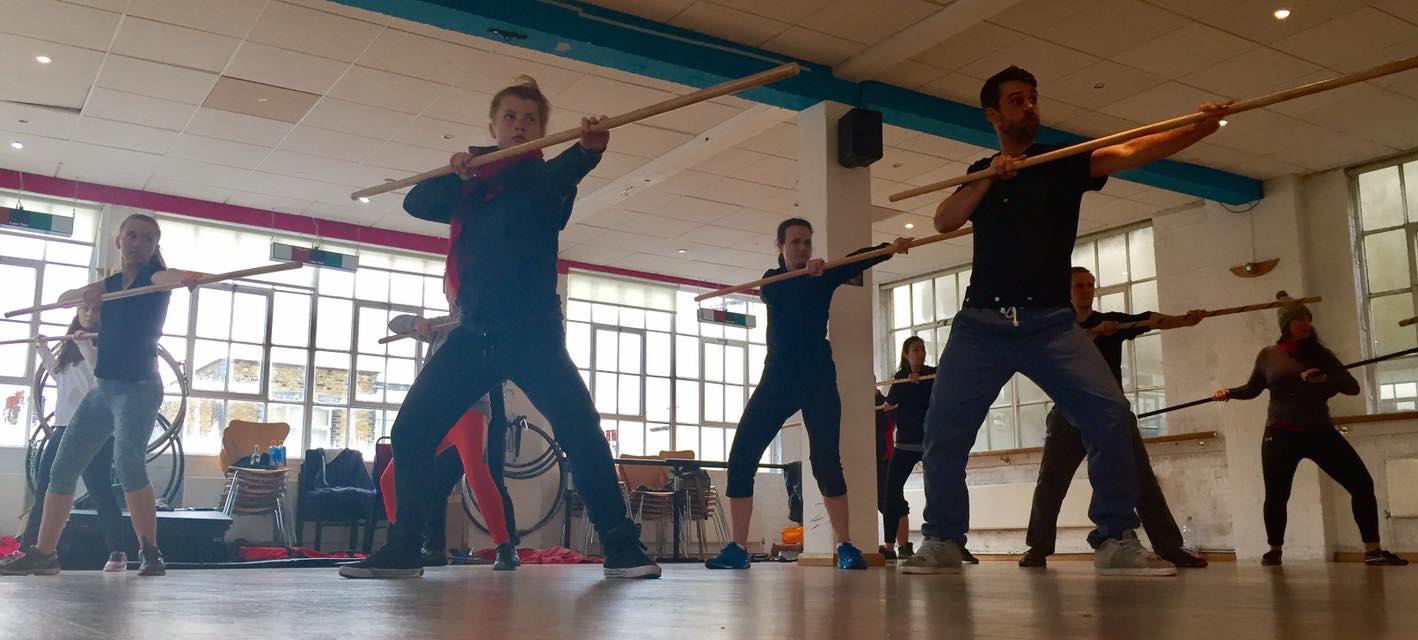 In looking for dramatic combat training, it is vital that you learn from an experienced professional fight director, who has a proven industry track record in safety and craft. All of our tutors in Stage Combat are all certified Teachers and Fight Directors.
Our Australian head tutor is Fight Director and Movement Director Lyndall Grant, one of Australia most respected stage combat practitioners; and our U.K. team is headed by leading Fight Director Andrew Young, assisted by Amy Floyd.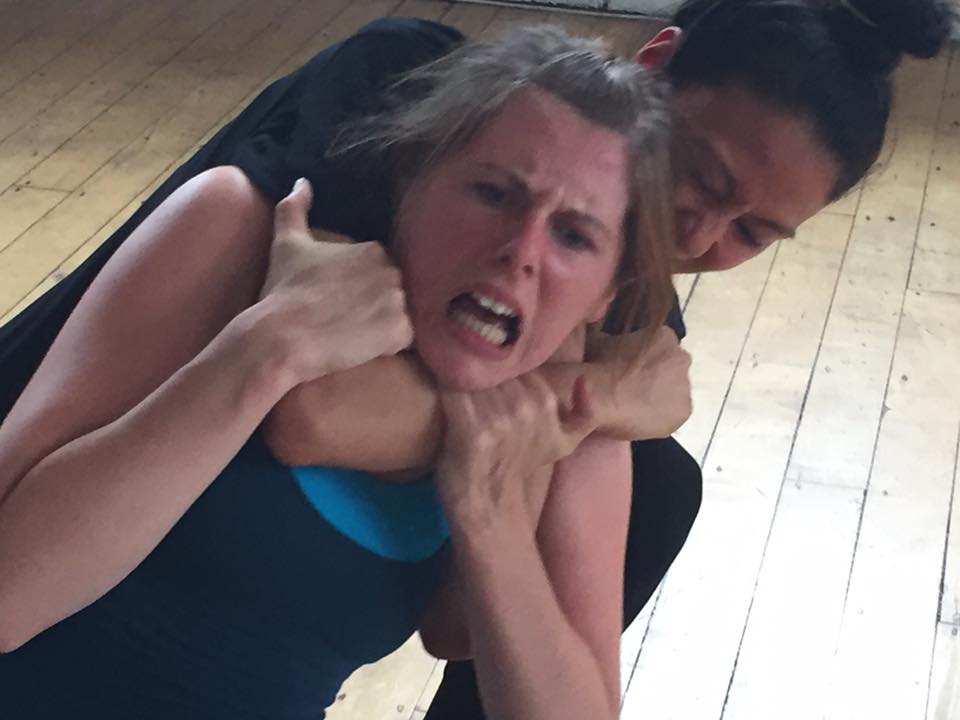 We frequently host workshops with other internationally-renowned creatives such as Nigel Poulton, Jonathan Howell, Kristoffer Jorgensen, NJ-Price and Kevin McCurdy. Training comes in a range of regular options, including weekend workshops, evening courses, intensive courses, and industry-endorsed certification courses.
YOUR NEXT OPPORTUNITIES TO TRAIN:
Stage Combat Spring Drop-in Series
Dates:
26th October to 30th 2023: BOOKINGS NOW OPEN.
(Summer series 15th February to 21st March)
Location:
Melbourne, Australia.
What is it?:
Our popular series of stage combat classes running over six weeks – sign up to all six, or drop in when you're free. Each week focuses on a different element of stage combat craft, giving you the chance to work with a wide range of weapons, genre, performance styles and techniques. These class are a great way to try out stage combat if it's something you've always wanted to do but have never had free time or finances. For experienced combat performers the classes are ideal for keeping yourself in engaged in training and performance practice, maintaining fitness and staying connected to our brilliant acting community.
Fight the Good Fight Stage Combat Intensive – HOBART and MELBOURNE
Dates:
Hobart: 29th January to 2nd February 2029, 10am to 6pm: Bookings now open.
Melbourne: 8th to 12th April, 10am to 6pm. Bookings now open.
What is it?:
One of our favourite workshops! A 5-day, full-time intensive course – your chance to train uninterrupted for a whole week, in performing stage combat safely and effectively for theatre, film and motion capture. This workshop is an industry-based experience with internationally-recognised Lyndall Grant, one of Australia's leading Fight Directors. The training focuses on what you need to bring out your best work across a range of weapons and unarmed combat, across a range of genres and time periods, and with a range of techniques
London New Year Bash
Dates:
Saturday 13th January 2023: Bookings now open.
Location:
London, U.K.
What is it?:
This is an excting full-day workshop of diving through different fighting styles seen on stage and screen. From slapstick to horror, comedy to interrogation, Barbie to Oppenheim, you will learn how to bring out the flavours and highlights of each genre while maintaining safe stage combat technique. This workshop is a chance to really exercise your creative performance skills as you learn to switch through genres with ease, and bring in the New Year with a bang.
Stage Combat Foundations Course
Dates:
Thursday evenings, 25th April – 27th June, 6:30pm – 9:30pm. Bookings now open.
Location:
Melbourne, Australia
What is it?:
This unique 10 week course is designed to give you solid Foundations for performing stage and screen combat in the industry. It leads you thorugh a focused experience learning the techniques and forms that are essential for safe and effective action performance, and is a chance to play with how this intersects with dramatic intention. Working with 'single sword' and unarmed combat, this course is ideal both for beginners, and for experienced combatants who would like to do a deep dive into the fundamentals of the work.
Our Fight Family
We are proud to work with some of the friendliest, most open and enthusiastic tutors, fight directors and students. We foster our fight community here in Australia, the U.K. and internationally, which is drawn together by mutual respect, curiosity and a zest for play. Besides from the direct and wider professional skills you gain from our workshops, from your first session you also enter a network of like-minded colleagues and friends – which frequently opens doors you never actually knew existed.
Some of our previous and current Dramatic Combat tutors include:
Lyndall Grant (Australia, U.K.)
Kevin McCurdy (U.K.)
Andrew Young (U.K.)
Kristoffer Jorgensen (Norway, U.K.)
Nigel Poulton (Australia)
Scott Witt (Australia)
Felicity Steel (Australia)
N-J Price (Australia)
Tim Dashwood (Australia)
Joshua Bell (Australia)
Amy Bolger-Floyd (U.K.)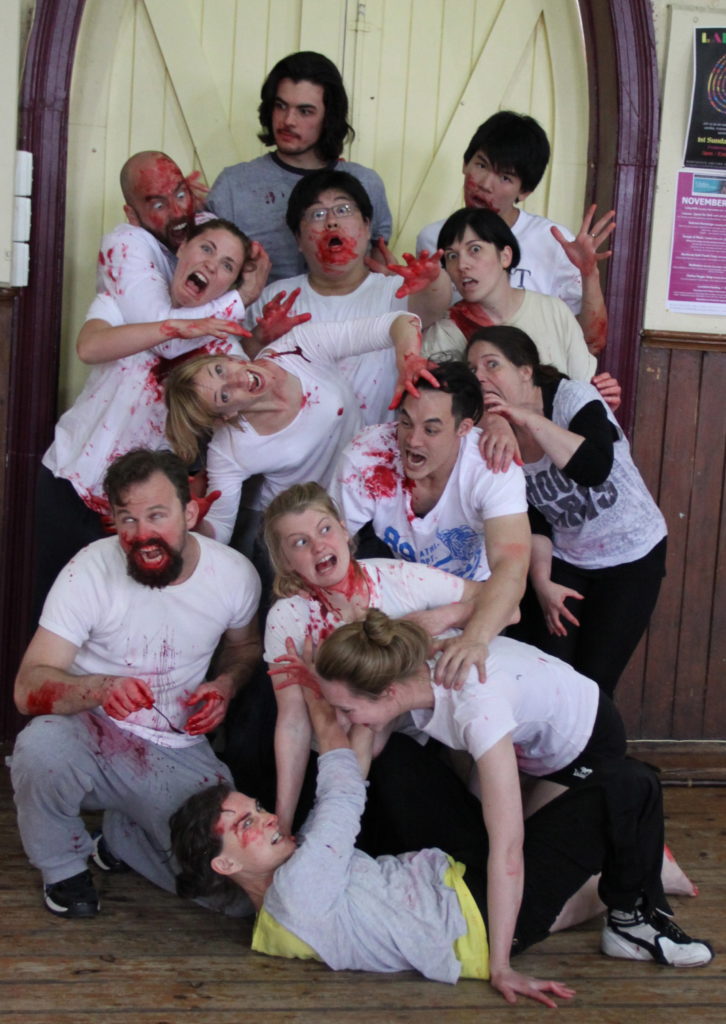 Keep up with all the news on Training Opportunities as they launch, and have first choice on a spot:
UK Opportunities:
UK MAILING LIST
Australian Opportunities:
AUS MAILING LIST
Got questions? Get in touch!
Main Picture: Alice Cavanagh and Scott Jackson