Sunday 10th January 2021, Melbourne
**SOLD OUT – NOW TAKING WAITING LIST PLACES**
WHAT IS IT?
A full day immersed in performing Longsword fights for stage, hosted by Lyndall Grant, one of Australia's leading Fight Directors.
Fighting with swords for stage needs a good amount of technical and performance skill. You need to keep yourself and those around you safe. You (usually) need to look like someone who has used this weapon all of their lives. You also need to give the audience the dramatic story of your character before, during and after the fight.
So, performing these fight moments with excitement and 'danger' means balancing all of these elements… not an easy task… and not one you want to leave just to the rehearsal period. This once-off workshop will flood you in the grounding principles you need to to let the fight 'do its job' on stage with longsword combat from historical European influences. We will learn the safety and technical skills as your bedrock, and then dive into performance techniques that bring the fight 'to life' (and that also you can use across a range of performance disciplines). With this in hand, we will explore ways of rehearsing for a stage fight so that you can give your best performance across the whole theatrical run.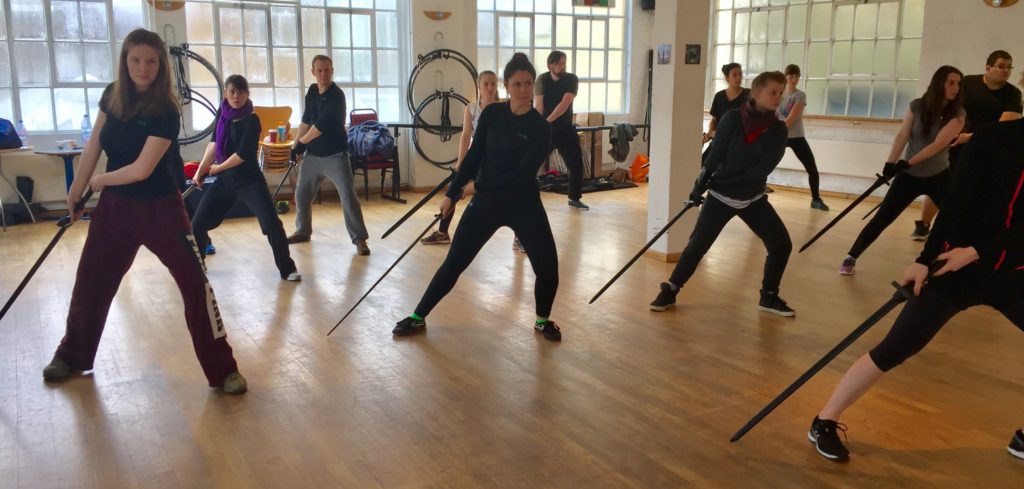 The result? By the end of the day, you will have been thoroughly worked! You will increase your skill set, network with (ie. have fun with) with a bunch of like-minded people, and will have moved further into your wider craft as a performer.
WHEN IS IT?
Sunday 10th January 2021*
9:30am to 6:00pm
*dates are subject to revision pending the progression of Covid-related Government restrictions
WHERE IS IT?
Dancehouse, Melbourne
150 Princes St, Carlton North VIC 3054
WHO IS IT FOR?
This workshop is created for anyone with an interest in performing arts and dramatic combat – actors, dancers, stunt performers, martial artists, directors, stage management, crew, circus performers… The course will cater for all abilities and experience levels.
We are committed to inclusive and equitable learning, and welcome all those who are interested in the workshop. We are also fiercely protective of creating safe work and training spaces. If you have any questions or concerns, please get in touch with our director, Lyndall.
HOW MUCH IS IT?
Concession*: $155
Standard: $185
(*'concession' includes those affected by Covid-related employment loss or reduction – ask us if you're not sure)
A deposit of at least 50% of the course fee is required on registration.
We accept online transfer of PayPal (3% additional fee), so let us know which payment method is easiest for you.
HOW DO I JOIN IN?
This workshop is now SOLD OUT due to strict Covid capacity caps, and we are taking WAITING LIST places. To reserve a spot on the list, fill out the registration form below and we will let you know when a spot comes up. If you do not receive a reply, check your junk mail from time to time in case our email has gone astray, or send us an email.
Our registration form is picky! Make sure you see a text box confirmation that your form has been sent as soon as you press SUBMIT. If you do not hear from us within 48 hours, check your junk mail and then send us an email.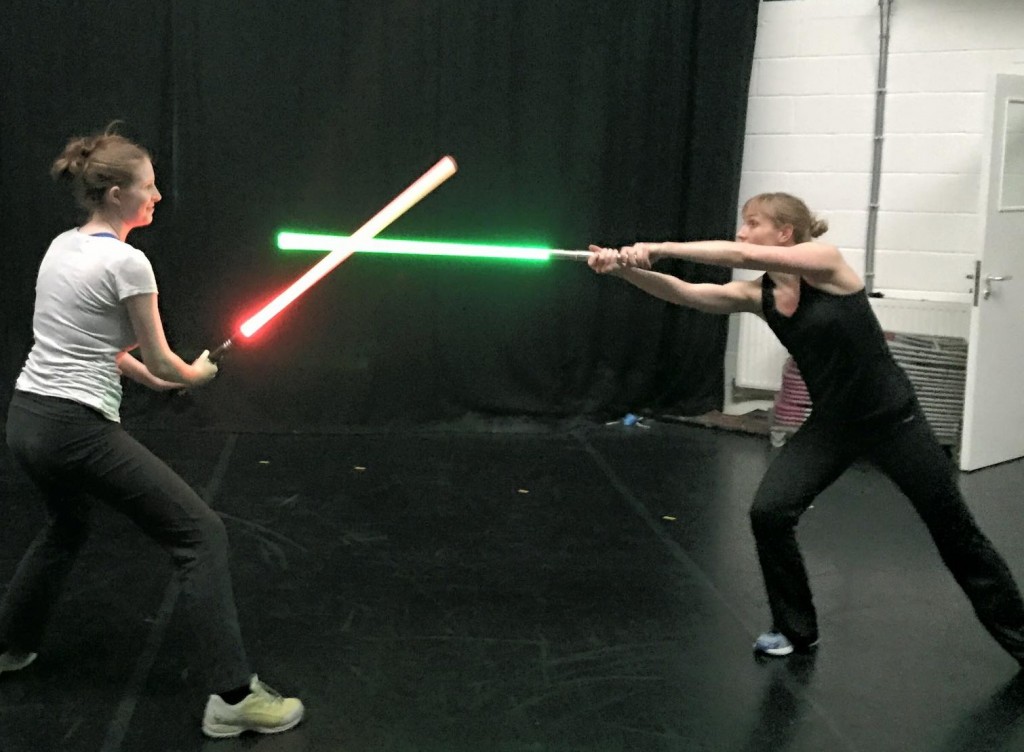 COVID-Safe Learning
The health and safety of our students, tutors, venue staff, all of our family and friends, and the wider community is absolutely vital. Both Captivate and Dancehouse are dedicated to running this course strictly within the most up-to-date Government-advised COVID-Safe guidelines.
A full account of these policies will be given to all students; and will include (but are not limited to) measures such as COVID declaration forms prior to arrival, temperature checks on arrival, the wearing of masks as appropriate, hand sanitisation, rigorous room cleaning, adequate ventilation, workshop content that facilitates social distancing throughout the day, and rigorous cleaning of all weapons used. Students and tutors will be asked to stay home if they have shown any symptoms related to a COVID-19 infection, if they have been in contact with anyone diagnosed with COVID-19 in the previous 14 days, and/or if they have been told to self-isolate by the DHHS. Any students forced to miss the workshop for COVID-19 related reasons will be offered a full refund of any course fees paid.
ANYTHING ELSE?
If you have any questions about anything, just get in touch with our director, Lyndall.
Otherwise, we are incredibly excited to be back, and look forward to training with you soon.
ABOUT YOUR TUTOR:
Lyndall is a Fight Director, Movement Director, actor and Motion Capture Specialist who works in Australia and Internationally for stage and screen. She is a senior teacher and Management Committee member for the Society of Australian Fight Directors, and certified Dramatic Combat teacher with the British Academy of Dramatic Combat. Until recently Lyndall was the Tutor in Theatre (Stage Combat) at the Victorian College of the Arts. Lyndall trained as an actor as London's ArtsEd School of Acting, before specialising in fight performance and physical performance. She began working as a fight director in London in 2010, and since then specialised in Motion Capture (performance, tuition and direction). In 2013 Lyndall established Captivate Action Ltd. in the U.K., as the first company to specialise in training and performance in action and Motion Capture, and brought this company home to Australia in 2016. Lyndall is currently an actor and movement captain in Melbourne's production of Harry Potter and the Cursed Child.
Recent fight/movement directing credits include: Torch the Place (Melbourne Theatre Company); Anthem (Roslyn Packer Theatre), Cosi (MTC, Sydney Theatre Company); Cloudstreet (Malthouse Theatre); Storm Boy (MTC); The Violent Outburst That Lead Me To You (MTC): The Architect (MTC); The Lady in the Van (MTC); Il Viaggio a Reims (Opera Australia); Hungry Ghosts (MTC); Alice in Winterland' (Rose Theatre Kingston, U.K.); Vivid White (MTC); Macbeth (MTC); Lohengrin (Melbourne Opera); Minnie and Liraz (MTC); Melbourne Talam (MTC); Lillith, the Jungle Girl (MTC); The Wind in the Willows (Rose Theatre Kingston); Straight White Men (MTC). Lyndall also recently choreographed fights over Zoom for Girton College's production of Macbeth, with the close assistance of Kristen Gleeson in the room with the actors.