This course teaches you how to perform dramatic fights safely, but effectively, for stage, screen and motion-capture.
We will learn dramatic combat techniques for unarmed combat and sword work, and how we can use all of our body, breath, voice and acting in telling a character's story in the fight.  This is because a good 'actor combatant' is not only secure and confident in showing fighting techniques, but also able to tell the whole picture with clear movement and acting intention.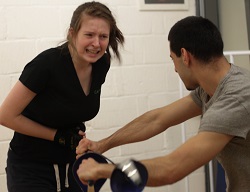 This training is essential for any person wishing to perform any kind of dramatic violence.  Also the training in physical awareness, acting and partner work is that which you can take into any form of performance.
The classes will be in English as a great bridge to working in the UK, North America or Australasia (or with English-speaking professionals in Europe).  However German translation will also be available.
Students will have the option of examining for standard (level one) certification with the British Academy of Dramatic Combat (BADC).
British Academy of Dramatic Combat Level One (Standard) Certification Course
The BADC Level One (Standard) Certification course is the industry entry-level training.  It is designed for those with little or no prior experience in stage combat, for those who would like to reinforce previous Standard training, or those joining the BADC training system from a different Dramatic Combat organisation.
For this Level One course we will cover three weapon systems recognised by the BADC:
UNARMED COMBAT
RAPIER AND DAGGER
18th CENTURY SMALLSWORD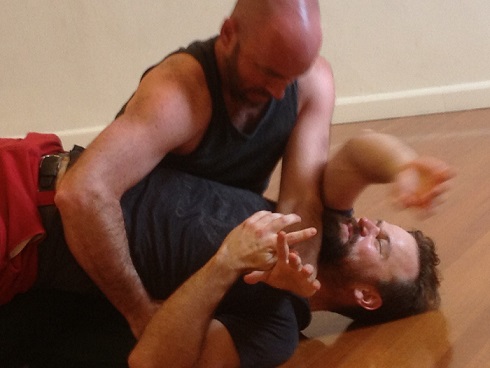 WHEN IS IT?
7 Days, full-time: Monday 18th to Sunday 24th August 2014, 9:30 to 18:00
WHERE IS IT?
Tanz*Hotel | Resort 1020.  Zirkusgasse 35, Wien 1020
WHAT SHOULD I BRING?
Wear comfortable clothes suitable for movement/exercise (no jeans) and closed-toed shoes with good grip.  We will be working with metal weapons, so full-fingered gloves are a must.  We recommend cycling gloves, baseball gloves, golf-gloves, fencing gloves.
Make sure you bring plenty of water, and nibbles if you need energy.
HOW MUCH IS IT?
EARLY BIRD: 460 Euro (registration and payment by June 29th)
CONCESSION/STUDENT: 490 Euro
STANDARD: 520 Euro
The exam fees are payable to the British Academy of Dramatic Combat and are additional to the course fee.  Your exam fee will be collected just prior to the exam.
For this course the exam fees are £25 per student (30 Euro)
HOW CAN I GET ON THE COURSE?
To save your spot, register now:
Course Registration
Got questions?  Get in touch